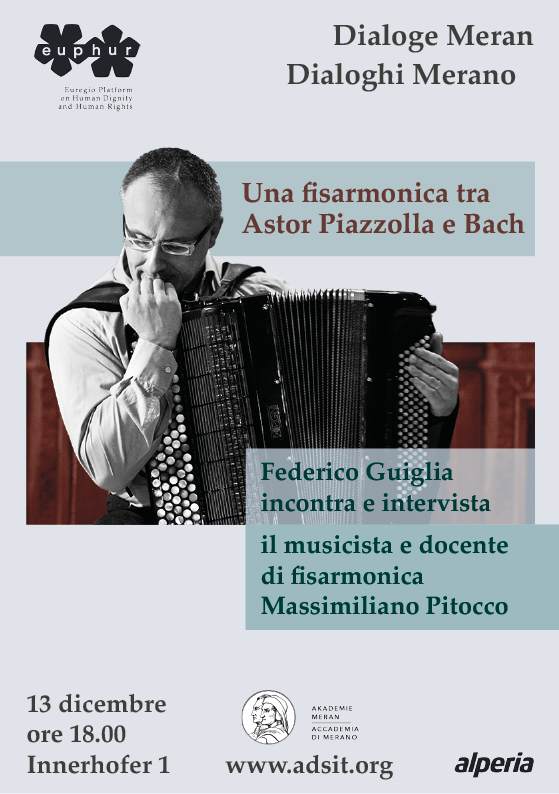 Christmas Eve, what could be better than listening to the stories and sounds of an accordion between Astor Piazzolla, the great melancholy of the tango, and Bach, the extraordinary classical synthesis of German style and Italian composition?
The art of the tango and the magic of classical music. The revolution of Astor Piazzolla and the tradition of Johann Sebastian Bach. The Argentinian passion interpreted by the artist Piazzolla in the second half of the 20th century and the German style of Bach, who was also inspired by the works of the great Italian composers of the 18th century. From Piazzolla to Bach, a universal bridge of modern and ancient musical genius.
Federico Guiglia will interview the musician and lecturer at the Santa Cecilia Conservatory in Rome Massimiliano Pitocco at the Academy of German-Italian Studies in Merano, Innerhoferstrasse 1 (behind the Church of the Holy Spirit) on Friday 13 December at 6:00 pm with free admission. The artist and professor is an international reference point for the classical accordion, on which he will interpret Piazzolla's melodies and Bach's works. The instruments will also alternate: from the accordion to the bandoneon and the diatonic accordion. Pitocco will explain the differences between these instruments and play small sample pieces. These sounds will make the unique journey between tango and classicism, between Piazzolla, whose pieces depict the "sad thought you can dance", and Bach, the eternal master of beauty of expression, even more enjoyable and instructive.